Psychophysiological Touch Screen Stress Analyzer (PTSSA System)
STATEMENT:  With over forty years of professional experience in pro-active preventative measures and criminal investigations…

Invented the "Psychophysiological Touch Screen Stress Analyzer".  

United States patent 8,264,364 granted on

9/11 of 2012.

Additional U.S. patents granted:  8,502,691;  8,847,778




Implemented security screening that significantly reduced employee theft and problems associated with substance abuse.
Expert Witness testimony accepted in criminal court proceeding  regarding Voice Stress Analysis when utilized in truth verification / lie detection.  Also Questioned Document Examiner.
20,000+ Investigative Interviews and 12,000+ Verification of Truth and Detection of Deception Examinations utilizing the Mark II Voice Analyzer and/or polygraph.
Conducted 1,000's of hours of research in Voice Stress Analysis and Touch Screen Stress Analysis. 
Created computer programs for analyzing Voice Stress Analyzer data.
Developed standardized pre-examination questionnaires for Truth Verification Interviews used by both voice stress analysts and polygraph examiners.
Developed numerous pre-recorded Truth Verification Examinations to verify information provided on pre-interview  questionnaires.
Trained a number of law enforcement agencies in the proper use of the Voice Stress Analyzer utilizing proven polygraph techniques.
Invented the "Interviewer System".
Published technical books on "Handwriting Analysis", "Drugs in the Workplace", "Hiring, Disciplining and Discharging Employees"; "Conducting Safety and Security Surveys".
PRS, LLC
President/CTO/Inventor
PRS, LLC, founded in January of 2013, has performed additional research and development to further advance Sprague's  patented technology that uses state-of-the-art computer hardware and software to make the process of security screening much faster and very objective.  The PTSSA technology builds on the principals used in polygraph and voice stress analysis, but combines them with advanced touch screen computers and processing algorithms that together can measure and analyze minute, but significant variations in the human touch.  The PTSSA interprets these inputs in real time as an efficient, low-cost investigative focus tool. 
The team includes experienced professionals in the fields of truth detection, computer technology innovators, and PhD forensic psychologists. Our management capabilities include business start-up planning and implementation, market analysis, business development, and program management. Together our Team has over 150 years experience in computer sciences, forensic sciences, and verification of truth and detection of deception utilizing polygraph and voice stress analysis. 
PTSSA technology 2014;  https://www.youtube.com/watch?v=YuuvN8QHONU
Profiles Research Services, LLC
A Security – Personnel & Computer Consulting Company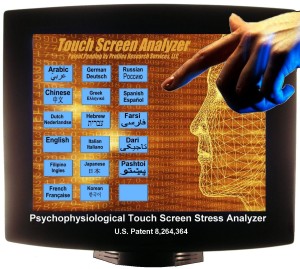 Invented the Psychophysiological Touch Screen Analyzer (PTSSA), an extremely fast and accurate system for identifying those involved in Terrorism, Smuggling, and Criminal activities. Psychophysiological Voice Stress Analysis (PVSA) of video depositions (an insurance company saved more than $2 million utilizing this technique). Author of "EZ by the Numbers Handwriting Analysis" that will assess Integrity; Drives; Emotions; Intellectual Style; Personality Traits; and more.  Compose technical books on dealing effectively with "Drugs in the Work Place"; "Hiring, Disciplining and Discharging Employees"; "Conducting Safety and Security Surveys". Developed numerous computer programs for analyzing attitudes and risk of applicants and employees through PVSA technology, Color Personality Profiling, personal observations and perceptions, and handwriting analysis. Developed personnel screening procedures and security guidelines for many small businesses including security systems. Developed auto Hypnosis CD's for a variety of situations (relaxation, self image, motivation, and addictions). Software development and testing. 
Touch Screen Technology:  KFMB Channel 8 San Diego 2010; https://www.youtube.com/watch?v=ZnCRQ0Cg-XQ
 Loss Control Associates, Inc.

Consultant – Voice Stress Analysis & Polygraph Research
Assisted in the development of Vocational Assessment Predictability Inventory (VAPI), a job related traits survey. This survey helped a retailer increase profits about $500,000 in one year by reducing employee theft and turnover. A trucking company reduced annual losses due to accidents by 58%. Developed highly effective pre-employment background investigative and specific loss investigative questionnaires for the City of Orange Police Department, CA (to be used in conjunction with the PVSA), the University of Arkansas Dept. of Public Safety, Bakersfield Police Department, Yuma County Sheriff Office, and an number of security agencies . Invented the "Interviewer System". Developed a PVSA training course for law enforcement agencies and security and personnel departments. Developed audio subliminal suggestion procedure for reducing internal theft and improving an employee's cooperativeness; attitude toward supervision, customers and coworkers; attendance; punctuality and productivity.
KFMB Channel 8 San Diego 1983; https://www.youtube.com/watch?v=uRmVgFWbP6k
Licensed Private Investigator and Security Contractor
Services provided:  Security Guard Services, Alarm Systems, Electronic Countermeasures, Voice Stress Analysis, Forensic Hypnosis. Developed an employee screening program for Mr. "M", Inc., that reduced employee theft by about 70% in two months. Designed  specialized electronic security systems.
Dallas County District Attorney's Office

Special Criminal Investigator
Pretrial investigation and preparation for more than 5000 criminal cases ranging from shoplifting to murder.  Pre trial interviewed of law enforcement officers and civilian witnesses. Review physical evidence.  Questioned Documents Examiner Expert witness.  Evaluated crime scenes including aerial photography. Plea bargain interviews and evaluations.  Revised the witness subpoena service and case filing system for the District Attorney's office thereby saving thousands of work hours and tax dollars. 
Dallas Police Department
Police Officer – Investigator
Accident investigations and reconstruction. Criminal investigator. Crime scene search investigations.  Forgery Examiner. Hospital and Airport police officer security coordinator. Dignitary protection. Motorcycle gang investigations. Community service officer.  Expert marksman. 
Unites States Army
980th Construction Engineering Battalion.  Honorable Discharge.